Hello,
I am Dr. Gharai, owner of Vic Park Dental. We are a prevention based family dental office with fantastic and long-standing staff members. The practice has been in the Agincourt community for over 50 years, and was relocated to its current location at the Shoppers Drug Mart building in 2013. I have run this practice since 2001, and have had the pleasure of serving its wonderful patients since then. We offer a wide range of dental services from fillings and cleanings to full smile makeovers. Our focus is always prevention as regular preventive care goes a long way in keeping your teeth for life.
Come see us at our office, so we can have a word about your mouth!
Dr. Gharai
Dentist serving the Scarborough-North York section of Toronto, ON
Vic Park Dental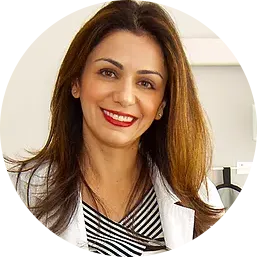 Dr. Gharai graduated with Honours from Faculty of Dentistry at University of Toronto in 1997, and spent her undergraduate years at Trinity College, U of T . She purchased her practice at Sheppard and Pharmacy in 2001, and moved the office to a brand new facility at Sheppard and Victoria Park (Shoppers Drug Mart Building) in 2013. Dr. Gharai practices general and comprehensive dentistry with an emphasis on total patient care and prevention. Dr. Gharai is committed to ongoing, continuing education. Along with practicing for over 18 years, she has completed post-graduate diplomas in Esthetic and Comprehensive Dentistry from the State University of New York at Buffalo and University of Minnesota . Dr. Gharai is a mother of two, and is an active spinner and regular participant in power yoga classes.
The Team
Dinah - Hygienist
Dinah is a Registered Dental Hygienist. She graduated from Syracuse Dental Hygiene School in 1991 and has been working with us for over twenty years. She is also a busy hockey mom to superstar son Paul who is usually the MVP of whatever team he is playing on. In her spare time, Dinah enjoys her elliptical machine and investing in the stock market.
Dawn - Hygienist

Dawn has been with our office since its inception in our old location at Pharmacy and Sheppard. She is a Registered Dental Hygienist from Algonquin College and has over 30 years of experience in the hygiene field. She works for us on Saturdays only and has a huge following. In her spare time Dawn loves to renovate her house, read, paint, sew and be with her three kids.
Linda - Hygienist
Linda is one of Vicpark dental's registered dental hygienists. Linda has over 7 years of experience in the dental field. She has completed her dental assisting certification has been a member of college of dental hygienists since 2015.
Linda enjoys educating patients about all areas of their health. She loves improving the smiles of our patients and help keep their healthy smiles for a life time. On her free time Linda enjoys to spend time with family, reading and working out.
Linda is fluent in English and Armenian.
Angela - Dental Assistant
Angela is a Dental Assistant who has been with our office for over 30 years. She graduated from Career Canada College in 1980. She is a calm and gentle soul who puts everyone around her at ease. She is also an awesome chef and grandmother to 5 beautiful children. In her spare time, she loves to have coffee on her patio with her sisters while keeping an eye on her vegetable garden.
Ed - Front Desk Administrator

Ed joined our office in 2016 as a front desk administrator. He completed his degree in Chairside assisting from Toronto School of Business in 2002. His many years of experience both as an assistant and a receptionist combined is a huge asset to our practice. His superior knowledge of what it takes to run a practice as well as his attention to detail keeps our office running smoothly and efficiently. When not at work he enjoys fishing, gardening and anything to do with the great outdoors, in addition to spending time with his family and friends.